Important new regulations for bedroom windows in Australia
Tips and Advice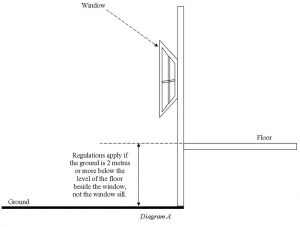 Over the years there have been a number of instances where young children have fallen out of windows resulting in injury and worse.
Up until recently the Building Code of Australia's only requirement in relation to bedroom windows – those most at risk of children climbing through them – is that the window must possess a sill height of 865mm if the fall from the bottom of the window to the ground below is 4 metres or more.
But as of 1st May 2013 that has now changed.
The Building Code of Australia now requires that a bedroom window needs to provide protection if the floor below the window is 2 metres or more above the height of the surface (typically the ground) beneath the window itself. Note that this refers to the distance between the floor and the ground, not the window sill and the ground as shown in Diagram A.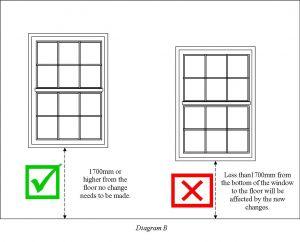 These new regulations also only apply if the lowest part of the window opening is less than 1700mm above the floor as shown in Diagram B. Seemingly if the distance between the bottom of your window and the floor is greater than 1700mm it is considered too difficult for a child to access, similar to the way pool fence regulations work.
What happens if my window is not compliant?
So what do you need to do if the floor beneath your window is more than 2 metres above the ground outside with less than 1700mm between the floor and your window sill?
Well, there are a couple of options both of which require some form of protection that stops a 125mm sphere from passing through.
One option is to physically stop the window from opening more than 125mm. Window locks are one possible option. If you have sliding windows fitting a secure lock that restricts how far the window can be opened is one option. Using louvres is another option that could be used to make sure your window is compliant.
Another option is to have a screen fitted to your window. However, with both of these options, you need to keep in mind that whatever you use needs to be child proof. The new regulations state that any restrictive device or screen needs to be able to withstand a force of 250 Newtons directed against it. A simple fly screen is not going to cut it.
And before you start to think that this is all pretty straightforward and all you need to do is get some window locks or some sturdy security screens fitted, keep in mind any other legislative requirements which might affect your chosen option. For example, some potential solutions might impact on the natural ventilation in the room, or how about the ability to escape through the window in the event of something like a fire or flooding? In these circumstances, you may need a device fitted to your screen that allows you to remove the screen in the event of an emergency.
If you are concerned that your bedroom windows are not compliant, or you simply want some advice on how to protect your windows, please feel free to contact us at dion seminara architecture to discuss your particular needs.
DION SEMINARA,
DION SEMINARA ARCHITECTURE
Hi, I am Dion Seminara, practicing architect and licensed general builder for 20 years as well as an environmental sustainable design (ESD) expert. I graduated from Queensland University of Technology (QUT) with honours, QLD in 1989. Registered as an architect in 1991 and registered as a builder in 1992, I am also a fellow member of the Australian Institute of Architects (AIA). Having received 12 ArCHdes Residential Architecture Awards, LJ Hooker Flood Free Home Design Award and the 2016 AIA Regional Commendation for Public Architecture, my expertise with both residential renovation (to all types of houses, especially Queenslanders, 50s/60s/80s), new contemporary homes and luxury residences has earned me a reputation as one of Brisbane's architectural specialists in lifestyle design architecture, interior design and landscape design.