Top 7 tips for modernising a traditional Queenslander home
Renovations
,
Tips and Advice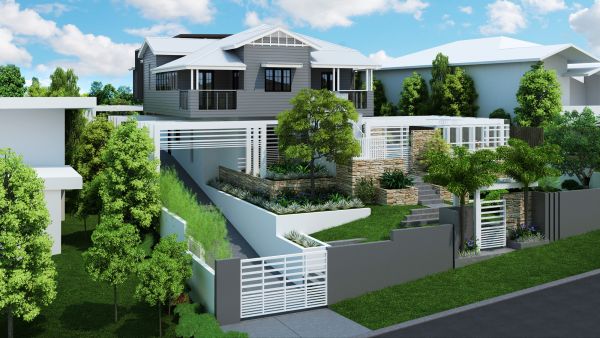 Queenslanders are beautiful homes. Perhaps it's because of their unique design or the fact that they bring back so many childhood memories. One would be hard pressed these days to find a Queenslander in Brisbane that hasn't been renovated, but there are still some around and those that have been renovated have often only been partly renovated years ago and not necessarily modernised in the way that they perhaps should be. So, I'm going to give you my top 7 tips for modernising a traditional Queenslander home. But first off let's deal with the myths.
Queenslanders are not cool in summer
In fact, from a comfort point of view they are not well designed at all in many ways. Hot in summer and cold in winter they are far from the most comfortable homes to live in.
Sure, on really hot summers days an un-renovated Queenslander offers a nice cool retreat under the house itself. But inside the home it can be like an oven. They are typically built high enough to get in the path of the prevailing breezes but small windows and lots of internal walls tends to limit the amount of cross-ventilation you actually achieve.
Add to that the gaps in the walls, floors and around windows and you can see why they're not great in winter either. But with all that being said they do have enormous potential. So, with that in mind, let's get into these tips.
1. Improve the comfort level within the home | Modernising a traditional Queenslander home
To start with, it's important to seal any leaks. Most Queenslanders are straight VJ's without any lining and therefore prone to having gaps. Sealing these gaps and lining the insides of the walls can help improve the internal insulation of the home.
2. Make use of verandahs | Modernising a traditional Queenslander home

Queenslanders are designed to take advantage of outdoor living. In fact, many of them offer limited internal space, with only a handful of rooms and lots of internal walls. But what they do have are lovely decks. By enclosing some of these verandahs you can create wonderful indoor/outdoor spaces to relax and entertain. Line the ceilings of these verandahs, add in ceiling fans and perhaps an outdoor kitchen and you immediately transform the practicality and appearance of the home. Louvres and shutters can blend in seamlessly with the look of the home whilst giving you greater control over the elements.
3. Redesign the interior of the home | Modernising a traditional Queenslander home
As mentioned, Queenslanders are often very small internally, with a limited number of rooms. Building in underneath can double the amount of internal space within the home, but additionally removing some internal walls can also help open up the home and create more usable space. Keep in mind some of the walls will be structural. Removing these load bearing walls can be an expensive exercise, but others can be removed or remodelled with little fuss. Sliding or bi-folding doors can then be used to give you options in regard to your interior spaces.
4. Let the light shine in | Modernising a traditional Queenslander home

Queenslanders are often very dark homes. This is partly because of the verandahs, but also because the double hung or casement windows tend to be very small. I'm not suggesting that you do away with all the windows. One needs to be careful to retain the natural charm of the property. But adding the odd bank of louvred windows, or larger format of window, can assist in improving the natural lighting which in turn can lower your power consumption.
5. Increase storage | Modernising a traditional Queenslander home
Queenslanders have never been known for their storage. In the past a lot of families would use their enclosed sleep-outs to store items, whilst bedrooms were not designed with built-in robes. Using an experienced architect can help you create more storage spaces not only within the bedrooms, but also for linen, cleaning goods and other cupboard and draw spaces, particularly in the kitchen which leads me to …
6. Renovate the kitchen | Modernising a traditional Queenslander home
You might like the original charm of a wood stove, but do you really want to be burning wood to cook your meals every night? Besides, chances are your kitchen has already had some form of a renovation that will have added some more modern appliances. But has it gone far enough? Most Queenslanders that I've renovated have benefitted greatly from having a kitchen overhaul and/or relocation, immediately transforming the functionality and liveability of the home.
7. Now about that ensuite | Modernising a traditional Queenslander home
A lot of Queenslander homes were only ever designed with a single upstairs bathroom. If it hasn't been added already then you really will want us to incorporate an ensuite into your home. Alternatively, if one already has been added in a previous renovation, you might still want us to give it an overhaul to improve the size and usability of that space.
Queenslanders are beautiful homes, but they are not as practical as everyone likes to believe they are. But with the right renovation design, they can combine beauty and practicality in a way that few other properties can.
If you're thinking of modernising a traditional Queenslander home but are unsure of where to start there are a few options we have available for you.
Ask The Architect – a free project feasibility call where you can speak to Dion directly about your project, ask questions about the build/renovation process, and learn how you will benefit from the best design, and the best quality build and outcome for your lifestyle.
Studio Visit – 1 hour meet and greet in-studio visit where you can get an understanding of what's involved before you commit, and develop an action plan with a leading Brisbane Architect for your specific project.
Design Options Assessment – an onsite analysis of your ideas and opportunities, where we investigate your specific project needs and consider design solutions to cater for current and future lifestyle choices.
DION SEMINARA,
DION SEMINARA ARCHITECTURE
We are experts at home design, renovations and new homes and ensure good value for money outcomes.
Hi, I am Dion Seminara, practicing architect and licensed general builder for 30 years as well as an environmental sustainable design (ESD) expert. I graduated from Queensland University of Technology (QUT) with honours, QLD in 1989. Registered as an architect in 1991 and registered as a builder in 1992, I am also a fellow member of the Australian Institute of Architects (AIA). Having received 12 ArCHdes Residential Architecture Awards, LJ Hooker Flood Free Home Design Award and the 2016 AIA Regional Commendation for Public Architecture, my expertise with both residential renovation (to all types of houses, especially Queenslanders, 50s/60s/80s), new contemporary homes and luxury residences has earned me a reputation as one of Brisbane's architectural specialists in lifestyle design architecture, interior design and landscape design.