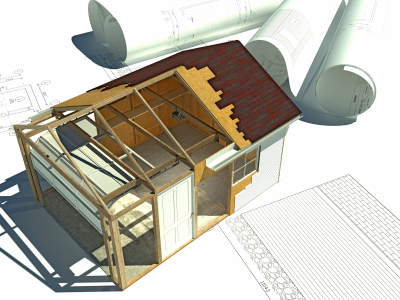 Granny flats can add real value to your Brisbane home
Renovations
,
Tips and Advice
,
New Homes
Granny Flats Brisbane
In this day and age, it has become increasingly common in Australia and internationally for extended families to live together on the one property.
The savings offered to grown-up siblings moving back in with their parents, or vice versa make this an attractive proposition for more and more Brisbane families.
If you have elderly parents or in-laws who either live with you or are going to move in sometime in the near future, you may like to consider the idea of a "granny flat". Of course, it could be that your grown-up children are moving back in with you – or have not left in the first place but need more privacy and independence…
While granny flats may, in fact, be used for adults, guests or even teenage children, the term implies that this is living accommodation that is suitable for an elderly person, typically a parent. If this is the case, your motivation for building a granny flat may be because your elderly parents or in-laws feel unsafe living alone, or because they need assistance and don't want to live in any type of old age home. It may also be because they don't have the available finances to continue to live alone.
Whether you add on to your home to create a granny flat or opt for a separate dwelling, you can increase the value of your property and improve the lifestyle of your extended family at the same time.
So what are the options for granny flats in Brisbane?
Add a granny flat onto your existing home.
Convert existing space, for example, a garage, into a granny annexe.
Build a new dwelling, a granny flat studio that fits the available space on your block.
Order a ready-made bungalow, cabin or a granny flat from a company that will deliver it to the site.
Buy a granny flat kit and assemble it yourself or employ a builder to do it for you.
Obviously, not all of these options are equal in terms of value to your overall property. Kits and/or ready-made dwellings might seem on the surface to be a simple solution, but there is little hope of them blending in with your existing home. Because of this, they will not increase the value of your property as much as would a purpose built architect designed granny flat that blends in seamlessly with your existing home and yard.  Furthermore, architects will take into account the specific lifestyle needs of the future occupant of the granny flat studio whether it be an elderly parent, guests or teenage children.
But regardless of whichever option you decide on you will need to be sure the structure of the granny flat is built in line with the Building Code of Australia as well as all the relevant local authority regulations. If you buy from a company specialising in granny flats and other similar structures, they will take care of plans and other official issues and all the services. If you opt for a kit, you will probably have to organise a plumber to lay drains and an electrician to link up the wiring from the cottage or flat to the mains supply. Adding on to your existing home, or having a separate granny flat home customised to suit your needs will require design work to be undertaken, possibly with the help of an architect, but this might also give you the best return on your investment.
See here for Brisbane City Council granny flat rules, regulations and guidelines regarding the addition of granny flats in Brisbane.
There are pros and cons for all the different granny flat options
Add a granny flat onto your home
Some people prefer to add onto the house for the simple reason that access is easier for elderly people. With an addition, you don't have to go outside to get to the granny flat, which can be awkward at night and in bad weather conditions. Also, there is usually a greater degree of security because of the close proximity.
Another advantage is that you can usually link into an existing plumbing system and extend the electrics with relative ease.
One of the most important, sometimes tricky aspects of adding on is to make sure that the design of the new wing (in this case the attached granny flat) matches or blends with the existing style of the house and materials that were originally used to build it. This can be quite challenging, especially if you are adding onto an older house. You also need to ensure that the new addition does not detract from the existing home in any way, which is why it is crucial to have an architect design the attached granny flat for you.
Conversions
Converting existing spaces, especially large garages, is often the most suitable, quickest and least expensive way to create extra living space. However, since the standard of finishes allowed for garages is lower than the standards required for human habitation, there may be quite a lot of building work to do, adding ceilings, partitioning and plumbing in a bathroom and kitchen. Of course, space may also be limited and you then have the small matter of what to do with your cars and anything else that was stored in your garage in the first place.
Other conversions that can add living space include raising an existing single level home, creating a room in the roof (where there is space in the pitch but no existing attic), and basement or cellar rooms. While none of these is really suitable for older people, you could change the layout of the house so that the rest of the family utilises the new upstairs or downstairs areas, and then convert an existing ground floor space into a flat for granny.
Build a granny flat home in your garden
While certainly not the cheapest solution, building a special stand-alone granny flat in the garden will enable you to choose exactly what size rooms and facilities you need. You can match the design to the house, or choose a style that blends with the existing architecture and garden style.
Buy a prefabricated, portable home
Companies all over Australia and in Brisbane offer prefabricated homes that are suitable for granny flats, holiday homes and even for use as home offices.  Styles and prices vary, although most are transported to site on a flatbed trailer and then positioned on supporting stumps, set in place according to the design of the structure.  Keep in mind though that none of these are likely to blend in with your existing home, and can look very much like a tacky afterthought.
Build from a kit
While the appearance of completed kit homes can be very similar to some prefab homes, the concept differs in that the kit is factory made and then assembled on site.
There are various kit types, so you can choose a style that might go some way towards blending in with your existing home, or suit the garden setting. For example, even if you have a colonial style or perhaps a clean-lined contemporary style house, you may opt for a log cottage, where timber logs are positioned horizontally to form the walls, however, care needs to be taken to ensure that this different structure still 'works' within the existing surroundings.
Other types include those made with ready-made panels, each of which forms a wall or part of a wall; geodesic domes consisting of interlocking polygons (with three or more angles and sides), and steel frame kit homes that are built around a metal framework.
Granny Flats in Brisbane
Whilst there are many different options for granny flats in Brisbane that cater for a variety of budgets, it pays to have an architect guide you in your decision, to ensure that the money you invest will add real value to your home, in the long run, not to mention ensuring that everyone's lifestyle needs are catered for.
So if you're thinking about having your parents (or children) move in with you and want a custom granny flat that is a pleasure to live in and to look at – is both flexible and practical in design and complements your existing home then contact us.
DION SEMINARA,
DION SEMINARA ARCHITECTURE
We are experts at home design, renovations and new homes and ensure good value for money outcomes.
Hi, I am Dion Seminara, practicing architect and licensed general builder for 30 years as well as an environmental sustainable design (ESD) expert. I graduated from Queensland University of Technology (QUT) with honours, QLD in 1989. Registered as an architect in 1991 and registered as a builder in 1992, I am also a fellow member of the Australian Institute of Architects (AIA). Having received 12 ArCHdes Residential Architecture Awards, LJ Hooker Flood Free Home Design Award and the 2016 AIA Regional Commendation for Public Architecture, my expertise with both residential renovation (to all types of houses, especially Queenslanders, 50s/60s/80s), new contemporary homes and luxury residences has earned me a reputation as one of Brisbane's architectural specialists in lifestyle design architecture, interior design and landscape design.